Amalia Mia Lang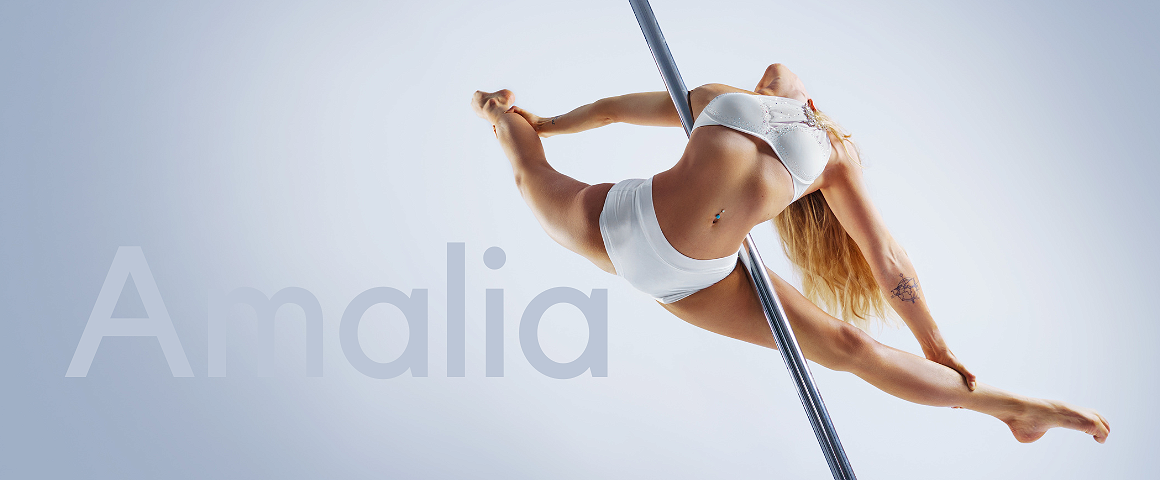 From Bodybuilding to pole dancing
Amalia's achievements in pole dancing speak volumes about her dedication and skill. She has earned impressive titles, including being a 2-time World Champion in Doubles, a Vice-Champion in Doubles, and multiple National Titles in both Doubles and solo performances. Her success in these competitions showcases her exceptional abilities and commitment to excellence.
We talked with our new ambassador Amalia Mia Lang about everything about pole dancing and got some exciting insights into her world.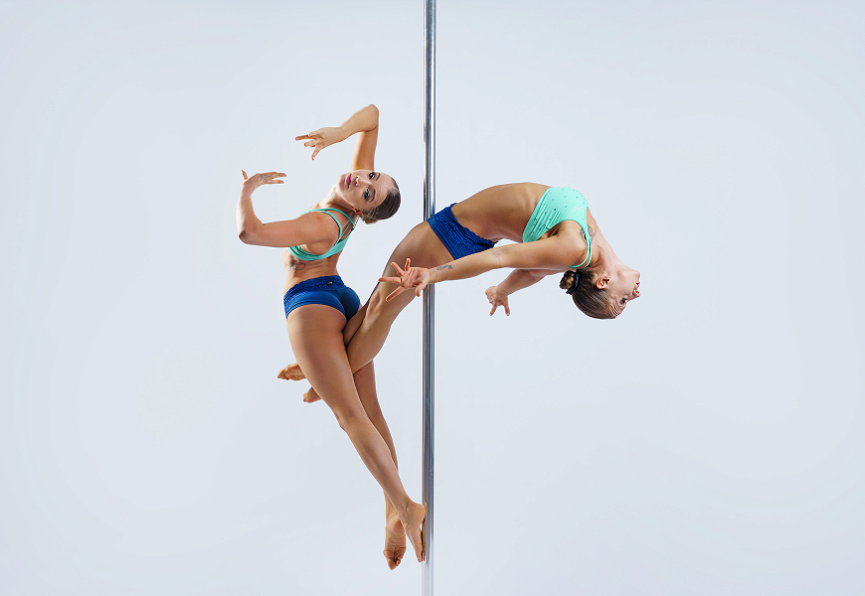 1. How did you first discover your passion for pole dancing, and what motivated you to pursue it as a career? 
I was basically forced to start Pole Dancing ;) My BodyBuilding trainer kept pushing me, telling me that since I am so strong and flexible, I should do pole dance. At that time she was a stripper though, and I only knew pole myself as a "Stripping-Style". For weeks and weeks, she kept sending me pictures and videos.
And when I first saw the Rainbow Marchenko, it totally hit me, I really wanted to learn, especially that trick.
So I gave in and started pole dancing in my room with her, she was not on a good level, so we were learning from old youtube videos, for example from Jenyne Butterfly. And with the first touch of the pole, I fell right away in love with the pole. From that day on, I started teaching myself, because there were no studios at all around me. 
2. Can you share some insights into the pole dance scene in Germany, and how it has evolved over the years? 
Pole Dancing in Germany is growing constantly, nowadays we have a lot of studios popping out, and a lot of amazing competitions going on, like Steel On Fire and Rock The Stage, as well as the competitions from ODPS. Germany also produced quite a lot of world champions yet, for example, I got two times world champion in Elite Doubles. And not to mention the incredible Yvonne Hauge who has multiple world championship titles. 
3. Are there any specific styles or techniques of pole dancing that you specialize in or enjoy the most? 
I am in love with pole sports or artistic, I love the tricks and combos, and I love being barefoot. And I especially love low-flow combos. 
4. How do you approach the creative process when developing new pole dance routines or choreography? 
I usually get ideas in the head, most of the time it's a theme or motto that I get obsessed with. Sometimes it's a song that I hear, that tells me a story. If it's a theme or motto, I try to look for fitting music first, and then start choreographing. I love weird things and weird movements, but I also enjoy clean lines. So I always have a hard time deciding whether to compete in sports or artistic. 
If I decide to be in the artistic category, I usually go with the theme or song and try to find the most fitting combo to it.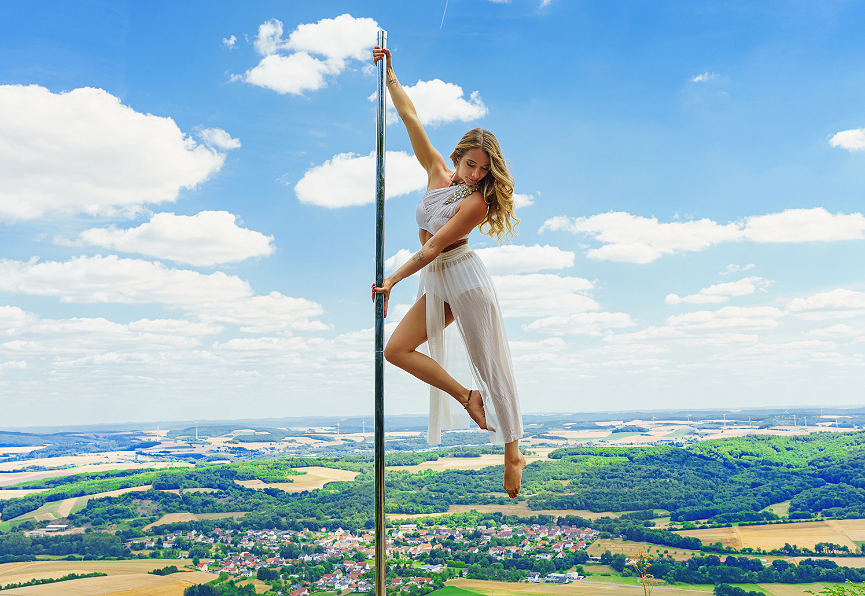 5. Can you share any memorable performances or competitions that have been significant in your pole dance journey?
I think the most memorable competition I had was the Doubles Piece about "The relationship with Work '', with that piece we also got World Champion in 2021 and won the National Championship title. That piece for me was one of my favorites, I could totally feel what I was trying to portray. And it still gives me goosebumps. 
Another one was I believe in Croatia in 2018 we competed in a doubles choreo there with the Theme "Terrorist Attack", and we got standing ovations from the judges, and one judge was even crying. I will never forget that feeling I had, seeing judges stand up for us. 
6. Are there any German pole dancers or artists who have influenced or inspired your own style and technique? 
I don't think so, I believe I had quite my own style. Especially since I competed mostly in doubles, and we don't have too many doubles here. 
7. How do you engage with your audience and create a connection during your pole dance performances? 
For me, the most important aspect is to connect with the audience through facials, and being able to really feel your performance and enjoy it. This right away sparks the audience and gets them into it. 
I try to let them feel, what I feel... Which sometimes turns out in funny pictures of my facial expressions! :D 
8. How has living in Germany influenced your artistic expression and the themes you explore in your pole dance performances? 
I was born in Russia, but live in Germany. Honestly, I don't know if Germany actually influenced me in any way. I don't feel completely at home there, so yeah I don't think Germany is influencing me at all in this case.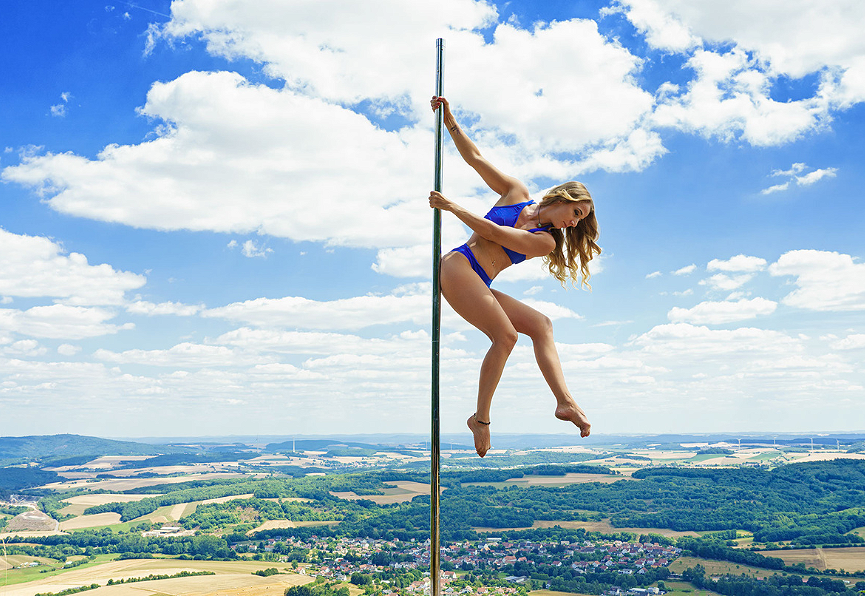 9. What is the most rewarding aspect of being a pole dancer? 
For me personally, TEACHING! but also being able to perform and make people smile and look up to me. Because I know how it feels, I have been that girl, watching from the stands her Idols. Being drawn into their world.  And being able to be that for someone else, is so rewarding. Same with teaching, I love when students look closely and concentrate on me. This gives me incredible feelings that I don't want to miss ever again. 
10. Can you share any plans or ideas for the future of pole dancing and how you hope to contribute to its continued growth and recognition? 
I just started my online studio, which involves: Pole, Contortion, Flexibility, and Workout. I would love to encourage people, to do more cross-training, and to look for the small things, to stay fit and healthy for their pole journey. 
11. As an influential figure in the German pole dance community, what advice do you have for aspiring pole dancers in Germany and Europe? 
Don't overtrain! Respect your body, learn your body, and listen to your body. Your body is your apparatus, just like the pole! Treat it right... there is no rush! And be yourself, don't try to copy anyone else, find your own flow, your own style. You are right the way you are. 
12. Can you share any exciting upcoming projects or goals you have set for yourself in your career
As mentioned before my Online Studio. I also moved to Mallorca for the summer months, so my new goals are to perform here. And spread the Pole Dance Love in Mallorca. Who knows maybe I will be able to open up a studio here in the North?!